Give it the love it deserves
The love and care for the wood shouldn't end when your wooden floor leaves our workroom. Our wood flooring products are designed to last for many years. To maintain the beauty and longevity of your Hakwood floor, it is important to properly care for it. We have a range of high-quality care & maintenance products, specially designed for Hakwood floors.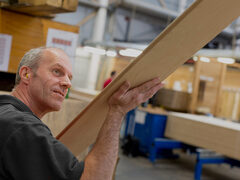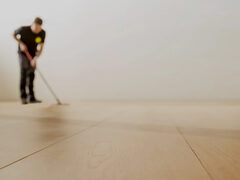 Excellent flooring. Excellent service.
Advice, maintenance as well as staff training are only the beginning of the service we offer. Together we assess your project goals to provide the customized plan you need. At Hakwood, we go above and beyond to ensure that your Hakwood flooring remains beautiful for years to come.
Care & Maintenance Products
With Hakwood Complete, we've created a range of clean, high-quality products for your floor's unique surface and finish. With these products, you have everything you need to make routine cleaning and maintenance a breeze and enjoy pristine hardwood flooring for years to come.
Clean
Life happens. Your hardwoods from Hakwood can take it. Our neutral cleanser is designed for frequent use and formulated with minimal ingredients to keep your floors and your indoor air clean and fresh. Pair with oil care to maintain the protective top layer and preserve the color underneath.
Finish Care
Our Finish Care is specifically designed to protect your flooring from moisture, dirt, and debris. Apply as needed to restore the beauty and extend the life of your hardwood floors. Our Finish Care is specifically designed to protect your flooring from moisture, dirt, and debris.
Oil Care
After cleaning, Hakwood Oil Care provides routine maintenance and feeds the protection layer of oil-finished hardwood floors. A simple water-based oil and wax emulsion, our custom formula is the simple, safe way to keep your hardwood floors looking their best and protected.
Oil
Even with frequent care, hardwood floors can become dry and worn over time - especially in high-traffic areas. Hakwood oil rejuvenates the color of faded floors, seals your planks with a new top coat, and prevents dirt buildup to make routine cleaning easier.
Contact us
Contact us
Do you need assistance or are you interested in ordering Hakwood Complete products? If so, don't hesitate to reach out to us.